Coronavirus Resource Center
Visit this website often for updated information on the ongoing COVID-19 pandemic, and details on available vaccines, testing and treatment options.
Mid-South Coronavirus Updates and Resources
Baptist continues to be a leader in providing resources and information to help you stay healthy and make the best decisions for you and your family during this unprecedented time. COVID-19 testing and all three COVID-19 vaccines are available in many Baptist hospitals and select clinics and specialty facilities.
COVID-19 vaccinations by appointment are available for eligible individuals at many Baptist locations and community sites throughout West Tennessee, Eastern Arkansas, and North and Central Mississippi. Schedule your vaccination appointment at the facility nearest you.
For more information and scheduling, please visit our COVID-19 Community Resources page. You may also call our Coronavirus Resource Center phone line at 866-941-4785 for more information.
Getting the COVID-19 Vaccine
COVID-19 vaccines are here, and we recommend you get one as soon as you are eligible to receive it. You can count on Baptist to keep you up to date on vaccine availability and distribution. For more information and answers to frequently asked questions about the vaccines, please visit the COVID-19 Vaccine page, or you may also call our Coronavirus Resource Center phone line at 866-941-4785 for more information.
COVID-19 Treatment Options

As the Omicron variant of COVID-19 becomes more prevalent, treatment options for those with moderate to severe symptoms are rapidly changing as well. Recent data indicates that the current monoclonal antibody treatments available may not be effective against the Omicron variant.
Therefore, some Baptist locations are not providing monoclonal antibody therapy at this time.
The COVID-19 Pill
The FDA has approved two new oral antiviral medications for Emergency Use Authorization. Paxlovid and Molnupiravir are available to the public in January through commercial pharmacies and select Baptist locations throughout our three-state region:
In Tennessee – Exclusively at select WalMart pharmacies. Visit their website for participating locations.
In Arkansas – Select WalMart pharmacies (find participating locations)
In Mississippi – Outpatient pharmacies at select Baptist hospitals. Call your primary care physician or pharmacy for more information.
These medications require a prescription from a provider and should be used as soon as possible after a positive test and symptom onset. As supply becomes available in pharmacies, it will be limited and should be reserved for high-risk individuals, including those ages 65 and older and the immunocompromised.
Face masks still required at all Baptist facilities
In alignment with guidance from the CDC, Baptist will continue to require all patients, visitors and staff to wear masks at all times in all our health care facilities, including hospitals, doctors' offices, surgery centers, diagnostic centers and similar facilities.
While we understand some state and local governments have relaxed COVID restrictions, to ensure the health and safety of our patients, families and employees, our rules have not changed.
All our pandemic safety precautions remain in effect until further notice, including:
Taking the temperature of everyone who enters any of our health care facilities
Maintaining our current visitation policy
Requiring our employees to continue following COVID safety protocols, including social distancing and mask wearing
We will continue to monitor guidance from local health departments and the CDC, evaluate our internal policies and communicate changes, if any, when appropriate.
Thank you for continuing to wear your mask and keeping our patients, families and employees safe.
What should I do if I think I have COVID-19?
When to seek medical attention
If you or a loved one experience any of the following emergency warning signs associated with COVID-19, seek medical attention immediately (not an all-inclusive list):
Trouble breathing
Persistent pain or pressure in the chest
New confusion
Inability to wake or stay awake
Bluish lips or face
Frequently Asked Questions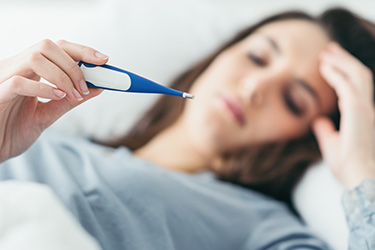 Detailed answers about COVID-19 and how you can protect yourself and your family.
Media Coverage
Visit Baptist's Coronavirus Disease 2019 (COVID-19) YouTube page to watch interviews with our medical experts.